Sunbelt markets like Austin, TX routinely capture headlines for the nation's hottest jobs markets. However, February data from the U.S. Bureau of Labor Statistics show that two Midwest markets where we focus are also showing impressive post-COVID job growth. According to the BLS, employment in Indianapolis is more than 5% above local 2020 pre-pandemic levels, vs. a 2% increase in employment nationally.
Cincinnati is also one of our focus markets, and while the Queen City showed post-COVID employment recovery that was a distant second to Indianapolis, Cincinnati's post-COVID job growth still outpaced most other regional peers and the U.S. average overall.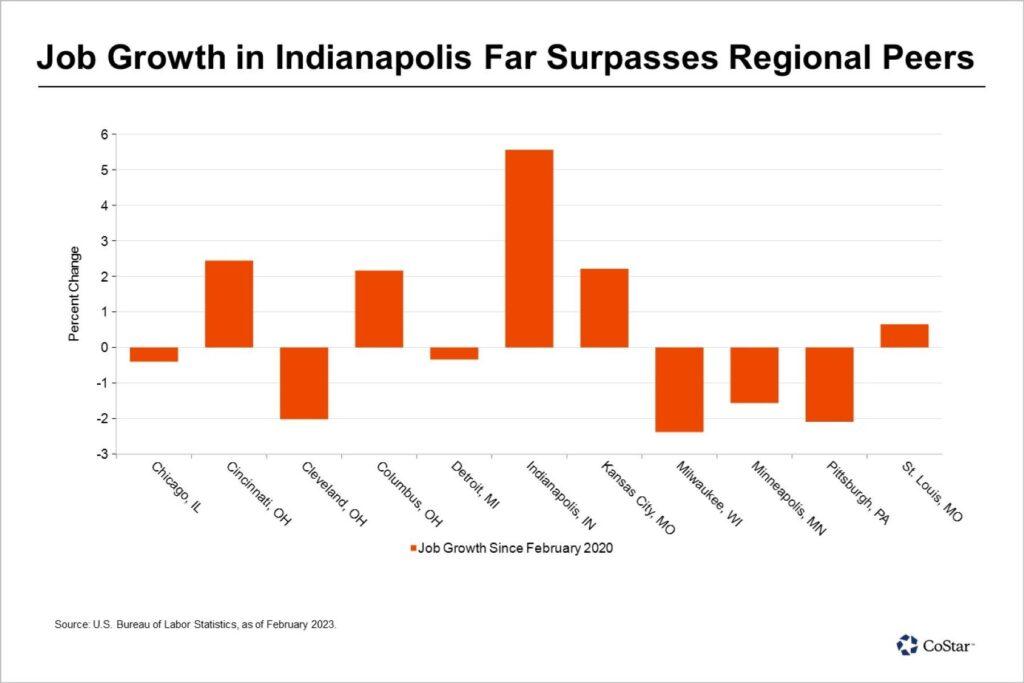 What are Indianapolis' and Cincinnati's Superpowers?
Cincinnati and Indianapolis both benefit from several key employment concentrations, the first of which is strength in logistics and transportation. Indianapolis is home to the world's second-largest FedEx Express hub as well as the divisional headquarters for freight and transportation giant CSX. Employment in the region's trade, transportation and utilities sector is 10% above February 2020 levels, compared to just 4% higher nationally.
Similarly, the Cincinnati/Northern Kentucky airport is home to the brand new $1.5 billion global freight hub for Amazon Air, which is Amazon's new, in-house air freight operation. Amazon opened the facility in 2022, and Amazon has plans to locate up to 100 Boeing 767 and 737 freight aircraft in Cincinnati, including pilots, mechanics and management personnel. In addition, Amazon has co-located another "focus" air freight hub in Wilmington, Ohio, about 50 miles northeast of Cincinnati. The two facilities effectively create a dual global Amazon Air hub in the Cincinnati area. Not surprisingly, employment in Cincinnati's trade, transportation and utilities category is up almost 6% from pre-pandemic levels, according to the BLS.
Numerous Fortune 500 Employers Call Indianapolis Home
Pharmaceuticals and healthcare is another important employment concentration for Indianapolis, which is the global headquarters for Eli Lilly, Anthem Healthcare, and the North American headquarters for Roche Diagnostics. These companies all benefited from strong demand for COVID antibody treatments and testing. In 2022 alone, Indianapolis employment in this sector was up 7%.
These solid employment gains are supporting strong household income growth, with median incomes up almost 20% in Indianapolis since 2019, compared to a national average of 12%. This has clearly benefited the area's real estate sectors, most notably retail, as steady demand drove vacancy rates in the Indianapolis retail market to the lowest point on record late last year. And while the retail vacancy rate has increased somewhat year-to-date in 2023, the retail vacancy rate is still just 3.5%, which is 70 basis points below the U.S. national benchmark.
In 2024, Cincinnati Will be Home to Eight Fortune 500 Employers
In addition to its strengths in transportation and logistics, Cincinnati's employer base is also strong and broadly diversified. The city currently boasts seven locally-based Fortune 500 employers, including Kroger, Fifth Third and Proctor & Gamble. In addition, when Boston-based GE finishes splitting into three firms in 2024, GE Aerospace will become a Cincinnati-headquartered public company.
GE Aerospace is one of the largest and most successful producers of jet engines and related components for commercial and military aircraft globally, and the company has had a long and substantial presence in Southwest Ohio. Currently, GE employs approximately 9,000 Ohioans statewide, with most jobs concentrated in the Cincinnati/Dayton region. The strength and diversity of of Cincinnati's employers are reflected in strong growth in professional and business services over the past three years, which is up almost 8% over pre-pandemic levels.
Importance of Affordability & Reshoring is Increasing
We commenced our contrarian Midwest investment strategy in 2006. The manufacturing decline had been in full swing since the 1970's, and any green shoots that existed were visible only to those who cared to look. Indianapolis and Cincinnati both suffered enormously during this decline.
However, Indianapolis and Cincinnati both possess appealing natural and man-made amenities, including historic urban cores that could not be replicated today. In addition, re-shoring and onshoring had already emerged as powerful long term trends even before COVID, and both Cincinnati and Indianapolis have been undergoing historic transformations. COVID and various national security concerns have only accelerated efforts to re-shore and on-shore our supply chain, and as these trends unfold even more rapidly, the old "Rustbelt" cliche is becoming increasingly dated.
In 2021, RealPage Analytics reported that downtown Cincinnati rents grew by an average of 11.9%, making it one of the best performing metros in the country. Nevertheless, at that time residential rents in downtown Cincinnati were still approximately 30% below the national average. In 2023, rent growth in Cincinnati and Indianapolis were still outperforming more popular markets, yet rents were still more affordable than the national average. This was largely due to cyclical slow downs sunbelt markets, while Cincinnati and Indianapolis continued their slow but steady march up and to the right. Unfortunately, some sunbelt investors are now learning that chasing market-leading growth in hot markets can also lead to downside that few imagined in 2020 and 2021.