The Midwest region has topped the charts for multifamily rent growth since the start of 2023, and third-quarter data show that the region continues to post healthy gains.
Several factors, including affordability, a balanced population growth and relatively limited completions compared to high-growth Southeast and Southwest markets, support steady rent growth throughout the Midwest.
Cincinnati has emerged as one of the top-performing markets for rent growth, not only in the Midwest but in the country overall. Rents in Cincinnati climbed around 3.4% as of the third quarter, in line with the Northern New Jersey market and trailing only Omaha, Nebraska, where rents grew by 4.1%.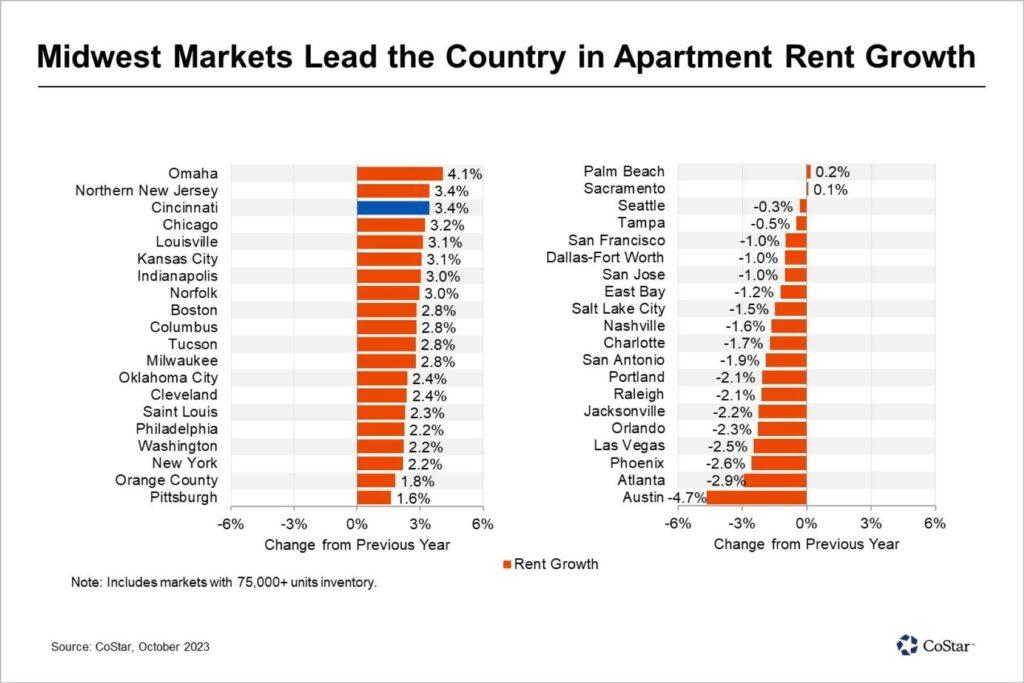 Apartment completions over the past 12 months in Cincinnati totaled over 3,500 units, more than double the average over the same period in the three years leading up to the pandemic. Despite the accelerated pace of completions, vacancy in Cincinnati rose just 60 basis points year over year to 5.8% compared to a 120-basis-point increase at the national level, where vacancy is 7%.
The projects that were completed over the past year largely began construction in the first half of 2022, when vacancy in Cincinnati was at a historic low of just 4%. While supply has pushed vacancy up significantly since then, it is still below the ten-year average of 6.1%, allowing landlords to continue to push rents at a steady pace even as vacancy rises.
Areas within Cincinnati where rent growth outperforms the market include Northwest Cincinnati, an area that has seen very few completions over recent years. Northwest Cincinnati also has an outsize share of cheaper one- and two-star units and mid-priced three-star units and is one of the more affordable areas of the market, which allows room for rents to grow at a healthy clip of 5.7%.
Another area with above-average rent growth is Northern Kentucky. While the area saw an influx of supply over the past two years, vacancy in early 2022 was even tighter than the market average at just 3.2%. Supply additions added some relief to tight vacancy conditions and rent growth sits at 4.2%.